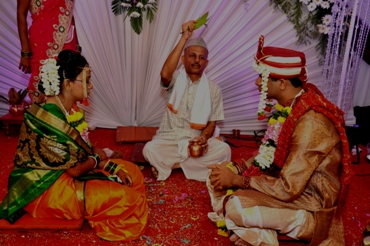 Marriage
Marriage is one of the rite / sacrament for all Hindu people. The rituals and process in a Hindu Wedding vary widely. Nevertheless, there are few key rituals common in Hindu weddings –'Kanyadaan', 'Panigrahana', and 'Saptapadi' which are respectively, giving away of daughter by the father, voluntarily holding hand close to fire to signify union, and taking seven steps. Each step includes a vow / promise to each other.
The primary witness of a Hindu marriage is the "fire-deity" (or the 'Sacred Fire' i.e. 'Agni'), of course, in the presence of family, rekatuves and friends. The ritual ceremony is normally conducted in Sanskrit, which is considered by Hindus as a holy language.
Hindu Marriage (विवाह) joins two individuals for their entire life, so that they can pursue 'dharma' (duty), 'artha' (possessions), 'kama' (physical desires), and 'moksha' (ultimate spiritual release) together. It is a union of two individuals from the opposite sex, as husband / wife, recognized by law. In Hinduism, marriage is followed by traditional rituals for consummation. In fact, marriage is not considered complete or valid until consummation.
The pre-wedding and post-wedding rituals and celebrations vary by region, preferences or the resources of the groom, bride and their families. The entire ritual could be performed in one day or on several days.
Pre-wedding ceremonies include 'Engagement' (involving 'Waagdan') and arrival of the groom's party at the bride's residence, often in the form of a formal procession. The post-wedding ceremonies may include 'Abhishek', 'Aashirwad', and 'Grihapravesh' - the welcoming of the bride to her new home. The wedding marks the start of 'Grihastha' (householder) stage of life for the new couple.
Hindu marriage ritual cannot be standardized. Regional variations and considerable flexibility in the rituals are prevalent. The variations may be based on family traditions, local traditions, resources of the marrying families & their position in the society, etc.
Some of the key rituals are as under …
Kanyadaan – It is the giving away of daughter by the father.
Panigrahana – It is a ritual in presence of fire, where the groom takes the bride's hand as a sign of their union.
Saptapadi – It is the most important ritual. It is called the seven step ritual, where each step corresponds to a vow groom makes to bride & vice versa. The vows are pronounced in Sanskrit.
After 'Saptapadi' is performed, the groom and bride walk around the fire, with the end of their garments tied together. The fire is the divine witness (to the marriage). After 'Saptapadi', the couple is considered husband and wife.
Many other rituals and ceremonies are sometimes found in Hindu weddings, such as 'Madhupark', 'Vivaha-homam', 'Ashmarohana', 'Laja hom', 'Abhishek', 'Aashirwad', etc. All these rituals are performed at the wedding location. These additional rituals include the participation of the brothers /sisters, maternal / paternal relatives, friends, well wishers, etc.
After the wedding, bride & bridegroom return to home. After returning home the perform 'Grihapraveshneey homam' & 'Laxmipujan'.