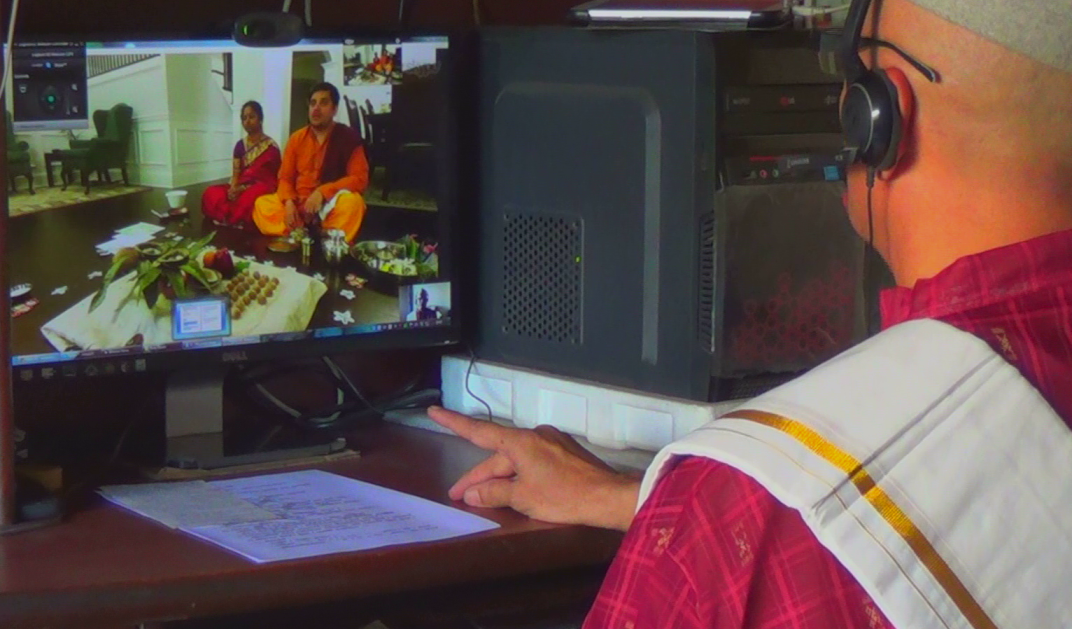 Online Puja
Just few years back, it was very difficult & expensive for a common man to get connected on telephone (landline) with his / her close relative, who was staying at a longer distance within India.
With the advent of technology & its progress over past few years, the same common man can get connected with anyone, at any time & anywhere in the world. `Internet' facilitates both sides to be in touch, with minimal cost. People at both the ends could not only talk with each other but can also see each other. The world is coming closer day by day.
Over last few years, thousands of Hindu families have been permanently / temporarily migrated to U.S.A., U. K., Australia and all other major countries across the globe. It is just admirable that while serving for a particular nation, almost all Hindu families try to maintain & practice their own culture, in their own way.
I am hereby happy to offer 'On-Line Pourohitya Services'. With the help of this facility, anybody from any part of the world can perform almost all Hindu rituals at their home & can get a true satisfaction by fulfilling their inner wishes. This service is available for all 365 days & at a time suitable to you. I have performed many Hindu rituals & Puja through Skype, for many clients residing in USA, Australia, Switzerland, Singapore & few other countries.
All following Hindu Rituals could be officiated & performed very easily on Facetime / Skype / Google Hangouts, etc.
- Any Puja (Ganesh Puja, Satyanarayan Puja, Satya Vinayak Puja, Anant Puja, Lakshmi Pujan, Bhumi Pujan, Mangalagaur Puja, Gouri Pujan, etc.)
- Laghu Rudra (Chanting of Rudra Sukta for 121 times)
- Ganapati Sahasravartane (Chanting of Ganapati Athrvasheersh for 1,000 times)
- Vastu Shanti, Udak Shanti, Gana Homam, Ganesh Yaag, Devi Homam, etc.
- Any Janan Shanti (more than 30 numbers)
- Maranottar Shanti (Tripad Nakshatra Shanti, Panchak Nakshatra Shanti, Nidhan Shanti)
- Vayovasthabhidh Shanti (Total 11 shanti from 50 years onwards till 100 years)
- All Shodash Sanskars (16 numbers)
- Sakharpuda / Vaak Nishchay & Seemant Pujan
- Devdevak & Grahmakh (before Marriage & Thread Ceremony)
- Upanayan (Munj) & Samavartan
- Marriage Ceremony (of any Caste / Sect of Maharashtrians)
- Kumbh Vivah & Ark Vivah
- Shraddha Ritual
- Any Vrat Udyapan Ritual
- Saptashati Reading
- Jaap / Anushthan
- All Miscellaneous Rituals
Preparation
A tailor made list of items required for any particular ritual will be sent by mail. You may collect / procure the items possible to you, depending upon the availability & circumstances. In addition to this, "Preparation Module" will be sent. This module will enable you to perform the ritual very smoothly.
---